- PRAYER CHANGES EVERYTHING -
SỰ CẦU NGUYỆN THAY ĐỔI MỌI SỰ
At Toronto Vietnamese Victory Church, we believe that prayer is powerful. When we pray we are making our requests known to a living God who loves us more than we can even comprehend.
​
Is there something going on in your life where you need God to step in? Do you have a need that only God can meet?
​
Prayer changes everything. Take a step today and ask God to step in. Submit a prayer request below and a team of people will commit to praying with you.
Tại Hội Thánh Tin Lành Đắc Thắng Việt Nam, chúng tôi tin rằng lời cầu nguyện có quyền năng. Khi chúng ta cầu nguyện, chúng ta đang nói chuyện và gửi lời yêu cầu đến Đức Chúa Trời hằng sống, Ngài yêu thương chúng ta nhiều hơn chúng ta thậm chí có thể hiểu được.
​
Có điều gì đang xảy ra trong cuộc sống mà bạn cần Đức Chúa Trời bước vào không? Bạn đang có nhu cầu mà chỉ có Đức Chúa Trời mới có thể hoàn thành?
​
Cầu nguyện thay đổi mọi thứ. Hãy bước một bước ngày hôm nay và yêu cầu Chúa bước vào. Hãy gửi một nhu cầu cần cầu nguyện vào form dưới đây và các chiến sĩ trong Hội Thánh chúng tôi sẽ cam kết cầu nguyện với bạn.
What services do you provide for Nutrition Facts or Supplement Facts (formerly known as NFP or SFP)?
---
knowledge bank offers several services around the nutrient panels. We work with you to determine the level of support you need from creating the NFP or SFP (in either 1993 or 2016 formats), reviewing the format, to auditing the calculations and/or supplier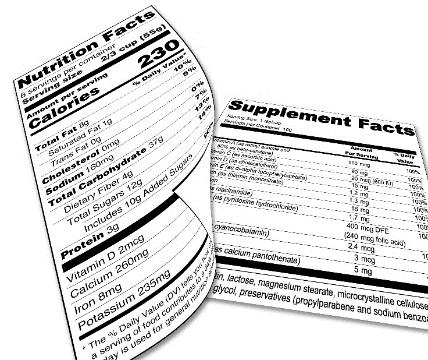 specifications.
When we create the NFP or SFP, we start with either your recipe, formula, or 100-gram nutrition information (from a database manager or laboratory analysis). This data is entered into a recipe management system to create a "theoretical" nutrition panel that is compliant for FDA and USDA regulations. The initial NFP or SFP format is evaluated and adjusted to ensure your panel supports your label claims and total available label space. Using our industry knowledge, we will also note when any "values" seem unusual. We do not analyze or "test" your products so please do not ship us samples; however, we can recommend laboratories who provide this testing service. If you choose to acquire laboratory data, we can help you create the graphic-ready image for your packaging. Ask us how to select a smaller format if you have tight label space.
---
When do I need to comply with the new Nutrition Facts regulations announced in 2016?
---
The FDA's Final Rule for the "Revision to the Nutrition and Supplement Facts Labeling" was issued in 2016 and originally required a July 26, 2018 deadline. However, there was an extension of January 1, 2020 for $10M+ sized companies (or January 1, 2021 for companies under $10M) in total food sales products. Due to COVID-19, the FDA's enforcement discretion has been to allowing companies more time to convert to their labels.
---
What do I name an ingredient, or can I leave off additives I don't like?
---
knowledge bank assists product developers, marketers, and entrepreneurs with naming ingredients and if an additive or substance may be omitted from the final label declaration (under very specific circumstances). Should you copy your neighbor or competitor, there is no guarantee that they've done things right. Our confidential, knowledge bank ingredient review evaluates all ingredient and sub-ingredient specifications respective to your
formulation to see which regulations apply. Additionally, we've made recommendations that helped our clients reduce the length of the ingredient declarations or protect their proprietary blends and unique flavor profiles.
Ingredient reviews are priced as an hourly service separate from the creation of the Nutrition Facts panel (label) on conventional foods and beverages. The creation of the Supplement Facts panel (label) is tied to the "other ingredient" declaration and an ingredient review is included in the fixed fee for the SFP creation. Ingredient review services require full formulations and ingredient specifications. A recommendation for labeling the 8 major USA allergens is provided with our ingredient review services.
---
Can Knowledge Bank help identify the USA allergen cautions?
---
Yes. Failure to properly label for allergens is a sure way to end up with a Class 1 product recall. knowledge bank advises on the different regulatory options available for disclosing the 8 major allergens. The ingredient supply chain is global and very complicated, resulting in specifications sheets that are incomplete, inaccurate, old or just plain wrong. We can flag risks for allergen cross-contamination within the supply-chain so your technical team can do a more thorough job in auditing and testing on-site. Our recommendations for naming the 8 major allergens is part of our ingredient review services. Plan ahead for sesame to become the 9th major allergen on USA labels starting January 1, 2023.
---
Do you handle dual-column NFP or multi-pack containers?
---
Yes, knowledge bank, are experts on USA Food and Dietary Supplement labeling. Call us to discuss your label challenges, we've probably already seen it before.
---
We have many labels and products; do you offer discounts?
---
knowledge bank will work with you to provide the appropriate level of services. knowledge bank has many strategies for helping companies meet their project needs and budgets. For large projects, we can staff up. Where products are similar, we often suggest creating a single "hero" or master template from which your team can learn and manage products internally with lesser consultation oversight. When you purchase services from knowledge bank, you are effectively purchasing expertise by the slice (timesharing) without any long-term commitment.
---
---
- HOW CAN WE PRAY WITH YOU? -
CHÚNG TÔI CÓ THỂ CẦU THAY VỀ VẤN ĐỀ NÀO CÙNG BẠN?